A quick note this morning to relay a great story that provides practical golf swing help for every player trying to improve his or her game.
I teed it up a few months back with some family.  Before the round, a fourth was added to our group by the starter.
He was an "older" gent (at some point we learned this guy was in his mid 70's, 76 I believe).
He had also survived a stroke having lost and then regained most of the use of the right side of his body.  His story, in some respects, reminded me of Ben Hogan.
From the start of the round, it was clear our partner had a game plan, and a favorite club.  He whacked his Callaway 4 wood off the tee about 180 yards, and whacked the same club off the fairway a comparable distance.  A chip and a putt later = par.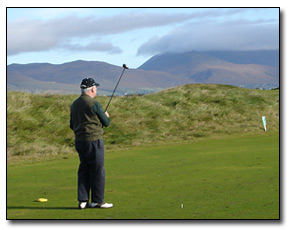 He repeated this pattern for the rest of the round.  It seemed every time we looked over that 4 wood was in his hands.
His golf swing repeated like nobody's business.  Nothing spectacular, down the fairway, and then on or around the green.
The Result: My money says he broke 80 and probably shot his age.
The Golf Lesson: Every golfer has individual physical characteristics and mannerisms.  There are golfers of all shapes and sizes that have succeeded at the highest levels of golf. They have succeeded because they know their strengths and weaknesses.
The strategy is the same whether you're goal is breaking 100 or 70. Giving it your best shot means hitting your best shot.  Familiarity breeds success.
Practice your weaknesses on the range, but use your strengths on the course. If you can hit a 4 or 5 wood 180 yards down the middle then fire that gun time and time again.
Three repeating golf swings with that club has you putting for birdie on a 540 yard par 5.
What golfer wouldn't want that putt?!
We went our separate ways after the first 18 so I regret I didn't get a chance to give this gent a Golf Ball Recommendation based on his equipment and swing type.
I bet I could have got him some more distance and accuracy (even though he didn't need much golf swing help).
Who knows?  With the golf ball advice, next round he could have shot even better than his age!
Till next time, hope you can get out on the course this weekend.
– Rob C.
Instant Golf
—————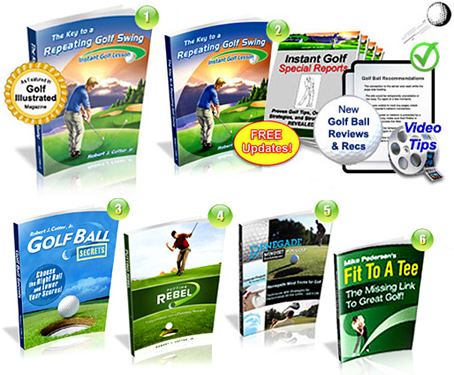 $74 PGA Event Special Discount

Save 50%, Very Limited Time
(Sale in Progress Now)

only $37.00
Instant Download or Hardcopy – Start Learning in Minutes
Get it all now for less than the cost of a dozen premium golf balls!