The Ryder Cup Teams are all set for the 2012 matches at Medinah Country Club. There were no huge surprises with US captain Davis Love's "Captain's Picks", though Hunter Mahan was left off the team despite 2 wins early in the 2012 season.
In today's Special Report, I have something that will really enhance your consistency on the course and help you with direction and power in your shots. Here's an image of US team member Jason Dufner we took at the Deutsche Bank Championship last week. He's on the tee with his 19 degree hybrid club.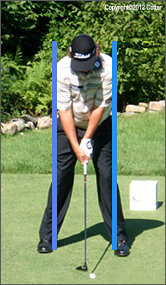 With most great players, particularly the better "ball strikers" on Tour, you'll find a common characteristic with their golf stance width:
The Inside of the Feet Width = The Outside of the Shoulders.
This is true for full shots with the bulk of your clubs, i.e. – the mid to long clubs (you know, the heart of your golf bag).
I've drawn some vertical lines to illustrate this with Jason (one of the best at golf ball striking on Tour). This golf stance rule of thumb provides the correct amount of freedom for a full turn in the backswing, while eliminating excessive "slop" in the backswing due to excessive knee action and over rotation.
Now as the clubs progress in length towards the driver, the stance width can even widen a touch, and as the clubs move towards the wedges, the stance narrows and opens.
Widening or narrowing your stance even an inch or 2 will immediately give you a different body awareness. It's really incredible how it affects every aspect of your swing, from address (set-up) to the finish position.
For more on stance width and ball position, discover The Key and put it to use in your game Risk Free. The new 2012 package comes in an Immediate Download Version, or Hardcopy option delivered worldwide to your door.
You can learn more and order the complete, 6 part "The Key To A Repeating Golf Swing" package here:
http://www.instantgolflesson.com/golf-instruction-details/
Best Regards,
Robert Cotter
About the Author: Robert Cotter is a US patent award winning golf ball design engineer and fine player. His interaction with the top players in the game led to his discovery of The Key to a pro caliber golf swing. He is the author of "The Key To A Repeating Golf Swing" which has taught over 5000 golfers in 60+ countries and has a success rate of >97%.