An Instant Golf® Special Report

Aaron Baddeley Golf Swing Analysis

by Robert Cotter (About the Author)
Professional Golf Ball Engineer
Director of Golf Swing Instruction, Instant Golf®
When Aaron Baddeley ran down Fred Couples on the weekend to win the 2011 Northern Trust Open, it was a signal that Aaron's "swing odyssey" of the past few years had ended. Badd's had come full circle.
After a brilliant amateur career that included winning the Australian Masters as an 18 yr old, and then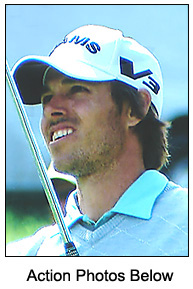 defending his title the following year, Aaron's stardom stalled.
In 2003, he ditched his childhood golf swing coach (Dale Lynch) for world renowned instructor David Leadbetter. He then moved on and became one of the first students of the "Stack and Tilt" method taught by Mike Bennett and Andy Plummer.
After his first 2 PGA Tour wins in 2006 and 2007, Aaron lost his way to the point where his world ranking fell to a shocking 269th.
Two years ago, Aaron returned to his first coach Lynch, and rebuilt his game while growing his family with wife Richelle, and daughters Jewell and Jolee.
The hard work and hours spent with Lynch tested Aaron's character and faith. In his words, "It's definitely been a couple of long years, but it was worth every bit. I feel the last couple of years is actually what made it easier today … the character that it has built in me."
By "today", he is referring in part to Sunday's final round in which he had a double bogie on #12. The round could have gone either way at that point. Baddeley birdied the next hole, parred in, and ended his 4+ year winless drought with the family there to greet him on 18.
Why change that swing?...
If you are familiar with Aaron Baddeley's golf swing, you know that it is an effortless, free wheeling work of art. In my opinion, his swing is a top 5 on Tour and right there with Hunter Mahan's motion.
I remember watching video of Aaron 8-10 yrs back and have wondered why anyone would trade that natural motion for a more contrived swing method like Stack and Tilt.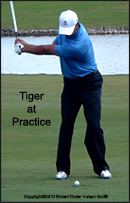 In a similar light, Tiger is on the same journey. I believe his finest, most natural swing occurred under teacher Butch Harmon. In the 2000 season Tiger won 9 times, including the US Open by 15 strokes. Would you not want to return to this swing?!!
Talented PGA Pro's can play well with different swing methods. And if they are mentally tough and have sharp short games, they can win on Tour. In the end, the score on the card determines who gets the trophy.
Ultimately though, I believe PGA pros will revert back to a more natural swing motion, especially under pressure. Any "unnatural" spine bending or manipulation of the club will break down under execution at some point in the round and golfers will get stuck between methods!
These are the golfers who disappear from the leaderboards, sometimes for 5 or 10 years, then reappear after revisiting their "swing roots". They often have second careers in their 40's.
So let's look at a few elements of Aaron Baddeley's natural swing motion. I'd like to show you a key element of his club takeaway from the ball, and his waist high position in the back swing.
Here's what you can copy from Aaron...
Aaron's setup is comfortable and relaxed below. He looks very stable with relaxed arms and a stable body. He could stay in this position all day: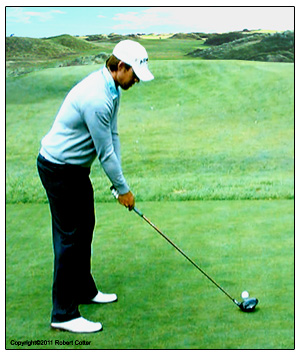 As he moves the club away form the ball (above right) we start to see why his motion is simple and precise. He is performing a key alignment that I find simplifies the swing.
Aaron's driver face is staying perpendicular to the back swing arc and that face is "looking" at the ball. His driver shaft is also pointing at the target line. Simple and precise.
Let's take a closer look: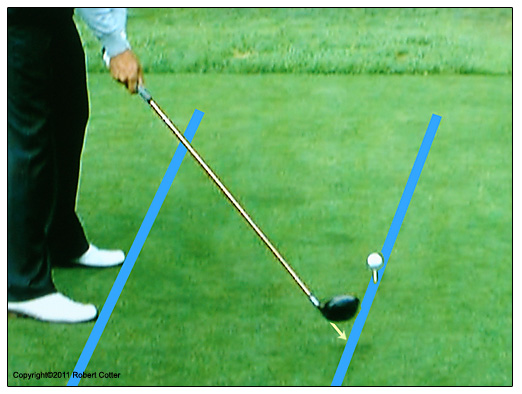 I've set some blue "Railroad Tracks" at Aaron's feet and along the target line, through the ball. As he moves that club head away from the ball (with his body rotation), that club shaft will point at that target line rail as if it is a laser burning a trench in the grass (along the inside edge of that rail).
From there the club head will move back, up, and in to a precise back swing position. Note, the club head doesn't stay over the blue line, it moves back, up, and in until the hands reach waist high as Aaron has powered his take away with his body or core.
This applies to an iron too. Here's a close-up of me showing the incorrect takeaways: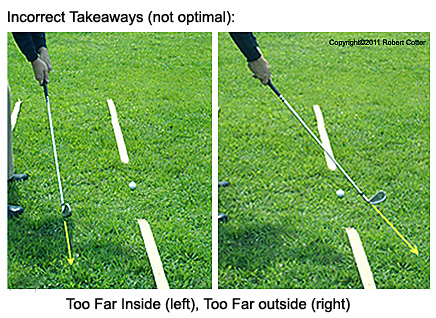 Here's the correct club takeaway below with the shaft pointing to the inside edge of the rail. Note the ball sits in the middle of the rail, so ideally the shaft should point along the inside edge. Note again, the club head is moving back, up, and in, but the shaft still points at the rail.

This is a solid, symmetrical path that any golfer can learn. I believe this is the most natural movement and establishes a perfect back swing arc and path. Baddeley is proof of that, with all his clubs!
One more key to Aaron's success...
Golfer's with natural, uninhibited back swings (and down swings) don't have to manipulate the club in any part of the swing, because they never get out of position.
Here's a key check point. When the hands are about waist high in the back swing, the club face angle should approximately match your spine angle!
Look at Aaron below: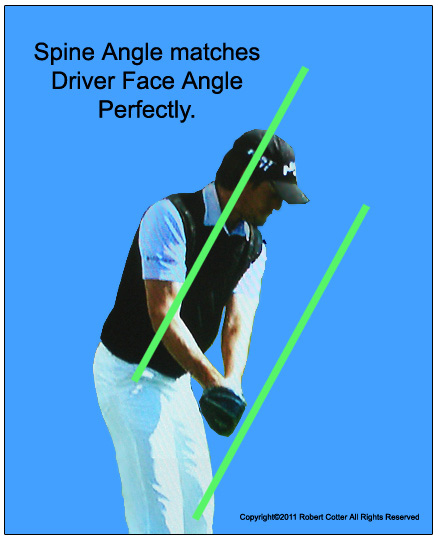 His Spine and Club Face angles mirror one another. He has essentially rotated his body to this point, so the center body relationship is nicely intact.
About 80% of recreation golfers have the club face rolled open at this point and the face is pointing away from the golfer or even to the sky. Others have the face looking straight down at the ground as they have lifted the club with their arms.
Aaron's arms and hands are quiet at this point. They have been guided by his body turn and it shows. Again, the relationship between the body and club face is clear. He is in a "Go" position for the rest of the swing.
What you can do: Copy this position. Stop a practice swing at this point and hold it for 30 seconds. Look at the face and compare it to your spine angle. Let your brain program this feeling. You will be better able to pass through this point on your real swing. It works.
From this position it changes...
The rest of the back swing is widely misunderstood, and it was a mystery to me for years. Body rotation only takes you so far, and lifting the arms is ineffective and sets up massive power leaks (not to mention topped and fat shots, shanks, wild slices, and pull hooks, etc...).
I developed a true understanding of the complete back swing and down swing after almost a decade of being stuck at a scoring plateau in my own game.
It would be a few years later while designing and testing golf balls for an industry leader that I made an important discovery on the testing grounds.
Working side by side with many top PGA pros (as they tested new ball designs) afforded me a close-up view of golf balls being launched deep down the fairways from seemingly effortless swings.
In one of these sessions, I made a discovery that I would later coin the "The Key To A Repeating Golf Swing" and it completely changed my game.
Most importantly, The Key automatically loaded my golf club shaft at the top of the swing, so I could deliver all that energy back through the ball at impact. It was an awesome feeling, and the sound of impact finally mimicked the players on TV (that snap and fizz of a crisply struck ball).
You see, to get the club from the top of the back swing down to impact, there are a few things that must happen in a fraction of a second, and they are not intuitive.
Hence, the down swing is a totally Different Animal than the back swing!
The forces created are tremendous, even for the senior or slower swing speed player. Different muscles are engaged and dynamic balance must be maintained by calling on specific parts of the body. And it all takes place in less than 1/3 second!
From his solid position at the top, I can initiate the down swing with The Key To A Repeating Golf Swing and ride the motion right to his finish position. You can too.
Aaron and all great players, past and present, male and female, are performing The Key whether they are consciously aware of it or not.
When The Key is performed correctly, the down swing will be on auto pilot. You will be held captive by your own great swing.

Impact sounds like a gunshot (especially off the driver) and the golf ball is compressed as efficiently as possible. You will use all of your available swing speed with no power leaks or slop, just like Aaron.
You will benefit from my firsthand experience inside the ropes, working with some of the top players in the game. I am convinced you will benefit tremendously from my swing instruction.
I'll show you exactly what I've shown over 10,000 golfers from 61 countries, many of whom broke 80 in their very next round after putting The Key into use.
I have also added some great bonuses to my 2016 complete package including expert, yet brand unbiased new Golf Ball Reviews.