Callaway Chrome Soft Golf Ball Review

by Robert Cotter
Professional Golf Ball Engineer
Director of Golf Swing Instruction, Instant Golf®
As I write this, the 2018 PGA Tour season has kicked off with several events already in the books. As the new year progresses Dustin Johnson, Jason Day, Jordan Spieth, Rory Mcilroy and even Tiger Woods will be trying to top each other at the big events and in the world rankings.
It's a great time for a Golf Ball Review, and this time I am taking a look at the Callaway Chrome Soft golf ball that was introduced in 2015 and has been tweaked for 2017-18.
You may have seen the advertisements throughout the previous seasons describing this ball as a revolution due to its unique physical properties. Namely, it is a very low compression (soft) Tour ball that is geared not only towards the Tour pros but also avid recreational golfers looking to add distance and improve consistency.
The 2017 Chrome Soft is a 3 piece Tour ball which means it has a large core, surrounded by a thin mantle layer, which is covered in thermoplastic urethane (the dimpled cover material).
Other 3 piece (3-P) Tour balls include the Pro V1, Srixon Z-Star, and several others. But what sets the Chrome Soft apart from the other balls is the compression.
The Chrome Soft is a 65 Compression Golf Ball.
By comparison, the 2018 Pro V1 compression is in the 88-90 range while the Z-Star also comes in around 90.
Now low compression golf balls are nothing new. There are 2 piece balls out there in the 50 compression range that are geared towards slower swing speed golfers or for golfers who prefer a golf ball that is very easy to compress.
What makes the Callaway Chrome Soft unique is the playability of the ball for golfers of all skill levels and swing speeds, even Tour pros.
Any real world test for a new product with Tour ball claims begins with Tour pro reactions. From the beginning, Callaway staff pro Phil Mickelson raved about this ball. Sure, he's being paid to promote the Callaway product line but no Tour player is going to risk his livelihood by using a new product that doesn't perform.
And though he went winless in 2015, Phil had 3 top ten finishes this season with the Chrome Soft including a 2nd place finish at the Masters. Not bad for the 45 year old 5 time major winner.
What's more amazing, Phil and other Callaway golfers have been switching from the 103 compression Callaway SR3 Tour ball to the 65 compression Chrome Soft. That's quite a process considering their scores depend of shaping full shots and precise feel with greenside chipping/putting.
Young phenom Danny Lee won the 2015 Greenbrier Classic and had 7 top tens using the Chrome Soft so the ball is gaining momentum on Tour.
Impressions and Testing...
As you can see from above and to the right, the ball is available in white, yellow, and what Callaway calls Truvis technology. Hence, the 3rd variation is painted like a red and white soccer ball.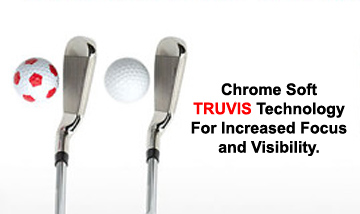 A gimmick, sure, but a functional gimmick? It's quite possible. If the pattern increases your concentration or focus on the shot at hand even 5-10% then your precision especially on chips and putts will be enhanced, as will your scores..
Plenty of us mark up our golf balls with dots, lines, and use alignment arrows. You could say this is the next evolution in functional ball mark-up. Cool.
And the balls may stick out like a flare down the fairway or in the woods for easy spotting. Seeing something blood red on the course usually wouldn't be a healthy sign unless it is your golf ball!
I like traditional white golf balls so the off the shelf test product I bought followed suit. Plus no red/white Truvis balls were on my pro shop shelf at the time of purchase. By the way, Callaway ball products are getting into smaller pro shops more efficiently than in years past and that is good to see.

Cost: The Chrome Soft sells on average for $37.95/dozen at retail and web wide. For reference, the 2015 Pro V1 retails at $47.99, the Bridgestone Tour B330 series runs at $37.99, and the Srixon Z-Star will set you back ~$30/dozen. These are average prices, you can always do better (or worse) depending on your frugality.

The dimple pattern of this ball is traditional looking which I prefer. I personally don't like looking down at dimples in dimples, or 4 different sized dimples on 1 ball. There was a time for that and it was called the 1990's.
Performance...
I had a few expectations when teeing up this ball. You see, when you have a ball with a low compression core like the Chrome Soft and therefore an overall low comp total ball construction, something has to give. Hence, a very soft core with a very soft cover does not result in a distance optimal ball. Typically you then have to firm up the cover. And then you don't have a Tour ball.
I was pleasantly surprised. I use the 3 Piece Pro V1 as a control when testing all Tour balls. The Chrome Soft was comparable in total driving distance. No issues there. The ball is noticeably low spinning off the tee. So if you happen to be a golfer with a slice or hook, your worst shots will not be exaggerated with large amounts of uncontrollable driver spin.

Now there are reports about the Chrome Soft increasing hybrid and iron distance. There are tales of golfers picking up 1/2-1 clubs in approach shot distance. In other words, your standard 6 iron may fly the green causing you to only require a 7 iron for the same shot. There was no such iron differential noted in my testing given my standard distances through the bag.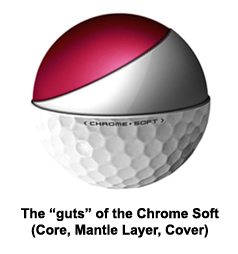 I did prefer the Pro V1 spin on 8 iron through pitching wedge shots. It wasn't an enormous difference, but for my game and equipment/iron set-up it was noted. The softer ball compression of the Chrome Soft (65 vs. 88) was felt on the short irons which helped to control the ball into the greens. However, the mantle layer and cover differences of the Pro V1 handle this requirement differently, and a bit better for me.
Short game: Per above, I was real interested in the feel of the Chrome Soft around and on the greens given the different urethane covers.
Off the putter, I was also really surprised. The Chrome Soft is excellent by my standards. Again, typically with softer compression product you get a harder cover, but not the case here.
I rate putting feel on 3 sound levels, as sound relates directly to feel;
- a "snap" (harder balls, poor feel)
- a "knock" (decent feel and speed control)
- a "soft click" (great feel, ala urethane covers)
This ball rates between the knock/soft click and is comparable to the Pro V1. I honestly was not expecting this sound/feel result. Distance control was also excellent.
I did find myself wishing I had a few of the Truvis red/white soccer balls to putt from various distances. It would be a kick to see that thing rolling across the green and disappearing into the cup.
Putting feel is perhaps the most subjective aspect of the ball characteristics. Some golfers like the firm feel, some a more balata-like (soft rubber) quality. This ball does harken back to the days of the wound balata product, but with dramatically increased cover durability.
Summing up...
Whenever a manufacturer finds a balance between softer compression, driver distance, iron spin, and short game feel, they have a winner. The new Callaway Chrome Soft rises to the occasion as both a better player's ball and a great ball for the average recreational golfer.
The Chrome Soft is a nice addition to the Callaway lineup which contributes to the overall industry trend of lower compression product. At $11-12 a sleeve, an 18 hole trial would be a nice way to spend part of an upcoming weekend.
Enjoy your 2018 Golf,
Robert Cotter
Instant Golf®
| | |
| --- | --- |
| | About the Author: Robert Cotter is a US patent award winning golf ball design engineer and fine player. His interaction with the top players in the game led to his discovery of The Key to a pro caliber golf swing. He is the author of The Key To A Repeating Golf Swing which has taught over 10,000 golfers in 60+ countries and has a success rate of >97%. Robert's passion is educating the golfing public about golf ball performance and demonstrating how the right ball will maximize distance, accuracy, and spin control for players ranging from beginners to touring pros. |