Srixon Trispeed Golf Ball Review

by Robert Cotter
Professional Golf Ball Engineer
Director of Golf Swing Instruction, Instant Golf®
Hello and welcome to another golf product review. This time, I take a closer look at the 2014 version of the Srixon Trispeed Golf Ball.
Before getting started, let me be clear that I am not compensated by the manufacturer to promote this product, nor am I endorsing the product.
As always, this is an informational report based on personal impressions. I also strive to inform golfers about products that may not be "common" to their geographic region (compared to other brands).
Case in point, the Srixon brand is very popular in the UK, and gaining strength here in The States. A few years back, the company claimed they were the 2nd leading brand in the UK. Currently, their 2-Piece AD333 ball is the top selling 2-P ball in the UK Market.
Briefly, Srixon is owned by the Sumitomo Rubber Industries, LTD. (SRI), a Japanese conglomerate with 70 years in the ball business.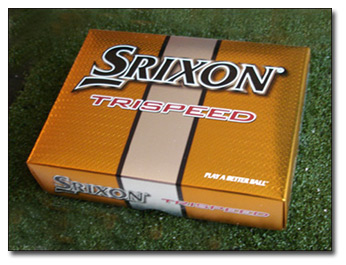 SRI is also the parent company of Cleveland Golf, Never Compromise (putters), and Cleveland Classics Apparel.
Current prominent Srixon professionals include:
Vijay Singh, Jim Furyk, Boo Weekly, Tim Clark, Brian Davis, Robert Allenby, Steve Flesch, Karrie Webb, Gary Koch, Bobby Wadkins, Bradley Dredge, Shane Lowry, & Soren Kjeldsen.
Now back to the Trispeed..
Since its introduction in 2007, the Srixon Trispeed has been gaining popularity in the "hybrid", 3-piece ball category.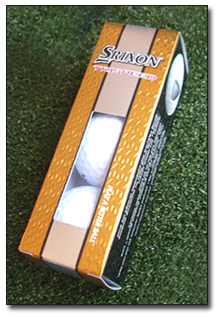 That's the new 2013-2014 dozen packaging above and it has changed in the past few years so take note. Note that golf ball product cycles can be 2-3 years between models.
I bought a dozen at Golf Galaxy for $29.95, so they are comparably priced with other 3-P, ionomer "soft plastic" covered balls.
The Srixon Trispeed construction is designed to help facilitate the High Launch and Low Spin condition that is proven to maximize distance.
The ball's 3 components include a large core, a very thin mid layer
(over core), and an ionomer cover with 24 dimples.
The most noticeable feature of this ball is its overall low compression.
The company states it is 64 compression. Incredible!!
So if you have been playing low compression golf balls but are looking for a bit more performance in a distance ball, this would be a good ball to put on your test schedule.
The ball did live up to its claims of low compression and good distance in testing. There was no ballooning so it could also be a nice wind ball for a lot of you reading this report.
On approaches and around the green, there was reasonable spin but not on the level of some other 3-P products in the category. This is the tradeoff with this ball (and others) so it was not unexpected.
In general, if you have a low compression core and mid layer, it is difficult to then have a soft cover and achieve optimal distance. However, the softer (not mushy) overall construction of the Trispeed lends itself to nice feel and control. Hence, this is a unique distance ball, not a rock like the distance balls of days gone by.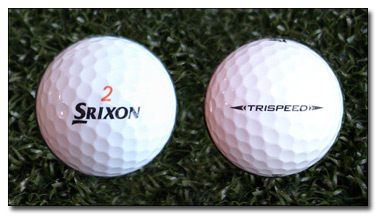 Off the putter, it felt reasonably good. I tend to rate putting feel on 3 sound levels; a "snap" (harder balls, poor feel), a "knock" (good feel and speed control), a "click" (great feel, ala urethane covers).
The Trispeed Golf Ball was right there in the knock range. No surprises.
However, Srixon has addressed some of these issues with the Trispeed Tour.
The Tour edition of the Trispeed is a firmer ball at 90 compression, but it has a softer cover. Again, that tradeoff; you can't overcome physics but you can stretch it pretty far!
So in summing up..
I wanted to introduce more of the public to the Srixon Trispeed family of golf balls as they are very popular worldwide, but to a lesser extent here in the US vs. other brands.
The Trispeed offers a nice upgrade for individuals who like low compression product, but would like a bit more performance a 3-P offers. In fact, I get this request for recommendations quite a bit.
This family of balls bridges that gap between low comp (low tech) models and pricey, 3 and 4-Piece, urethane covered "Tour balls".
If that sounds like you, consider giving the Trispeed a good trial of 1-2 rounds, noting all shots and feel in addition to driver distance. This is a great ball for the moderate and slower swing speeds, and the higher swing speed players have the option of the Trispeed Tour (with its firmer core).
Depending on where you live, you may also be able to buy a sleeve or 2 at an on course pro shop. That will give you a good trial and save you a few dollars.
Have Fun,
Rob C.
| | |
| --- | --- |
| | Robert Cotter is a US patent award winning golf ball design engineer and fine player. His interaction with the top players in the game led to his discovery of The Key to a pro caliber golf swing. He is the author of "The Key To A Repeating Golf Swing" which has taught over 10,000 golfers in 60+ countries and has a success rate of >97%. Robert's passion is educating the golfing public about golf ball performance and demonstrating how the right ball will maximize distance, accuracy, and spin control for players ranging from beginners to touring pros. |