An Instant Golf® Special Report
Steve Stricker Golf Swing Analysis

by Robert Cotter (About the Author)
Professional Golf Ball Engineer
Director of Golf Swing Instruction, Instant Golf®
Steve Stricker has a golf swing that is considered to be one of the most efficient and reliable on Tour. But it wasn't always that way. He is a study in perseverance and reducing the golf motion to its simplest terms, so one can excel under pressure.
Stricker turned pro in 1994, and broke through with 2 wins in his 20's in 1996. That year he finished 4th on the money list. The future looked bright indeed.
After another impressive win in 2001 at the Accenture Match Play Championship, Steve entered a long, challenging slump.
By 2005, he had lost his PGA Tour card and relied on sponsor's exemptions to compete. It is reported that he missed 47 cuts during his long slump.
A Wisconsin native, Stricker set out to rebuild his swing in a converted 3-sided mobile home, hitting balls out into the snow covered fields of the Cherokee Country Club in Madison, Wisconsin.
He knew he needed to develop a swing that was reliable and could repeat under pressure. In this process, he was also assisted by his long time swing coach, Dennis Tiziani (who also happens to be his wife's father).
What emerged was a totally different looking golf swing motion compared to his former, more vertical, "across the line" action.
His hard work and perseverance paid off when he won The Barclays tournament in August of 2007. Steve's show of emotion at that and subsequent wins hints at the years of despair before the comeback. To him (and others on Tour), there is always doubt whether you will win (or win again) out on the big stage.
He nailed down his 10th and 11th PGA Tour titles at the 2011 Memorial Tournament and John Deere Classic. He also added the Hyundai Tournament of Champions title in 2012 which included a stunning 63 in the 2nd round.
At 52, Steve has won 9 times after the age of 40 (12 PGA titles in all). Only 4 Tour players have more wins after 40 than Stricker. He also has 27 total professional wins and 13 top 10's in majors.
The future for the 52 year old looks bright as he will be splitting his time on the PGA and Champions Tour. He won 3 events on the 50+ circuit in 2018. The respected veteran then won the Regions Tradition, a Champions Tour major, this past May. Hence, nice guys can and do finish first!
The Steve Stricker Golf Swing - Myth and Reality
So what's this "new" swing all about? There is a lot of discussion regarding Sticker's golf swing these days. This has resulted in a lot of myths about what is really going on in his back swing and down swing.
I will address a few of those, and show you exactly why he is so consistent with the driver and irons.
Myth: Steve Stricker has no wrist cock in his back swing.
Reality: He has plenty of wrist cock, just not as much as others.
Though he choses driving accuracy over distance, Stricker is still averaging ~280 yards off the tee in 2019. While not among the leaders in driving distance, that is a good poke. And although he can hit it longer at will (he hit one 411 yards a few years back), he has simply chosen fairways vs. rough. This leads to more birdie and eagle opportunities.
Stricker's wrist cock is shown below. It is a "quiet" wrist cock due to the smoothless of his overall swing motion. In reality, it doesn't look much different than most of the players on Tour when you look at a still shot like below!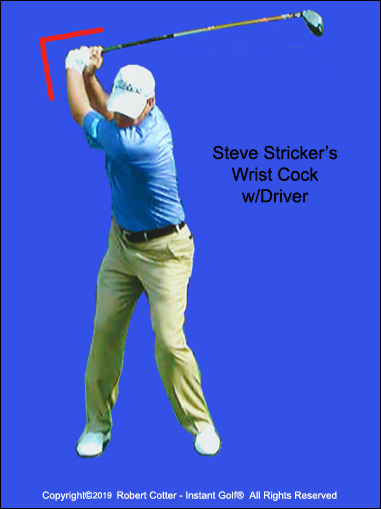 We tend to associate wrist cock (especially in the down swing) with Master's champ Sergio Garcia or World #1 Dustin Johnson. I would suggest they are more the exception, not Steve. It's the un-cocking of a player's wrists in the down swing that produces speed.
Stricker accomplishes his down swing speed as well as anyone with his mischaracterized, "wristless" swing. There's plenty of wrist cock there, disguised in his smooth, even tempo motion.
Myth: Stricker's swing is flat or laid off.
Reality: Nope, not when he is playing well. His iron swing is actually quite upright.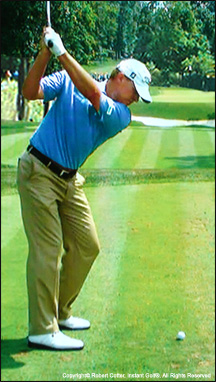 Stricker's swing is powered by the body. This is one of the major changes from his old motion that resulted in a tendency for the club head to "cross the line" at the top (or point to the right of the target).
Steve has blended a full shoulder turn with a more compact arm swing.
Here he is at the top of his back swing. Notice the club is well short of parallel with the iron yet the shoulders are fully turned.
The club is in total control and staged for the down swing.
This is one of the reasons he is ranked among the leaders in Greens Hit in Regulation and tops most of his peers with more Birdies per Round (combined with his great putting stroke).
Steve's back swing motion is tied to his body movement. I would describe it as a "rolling" or "rocking" motion.
This is also one of the reasons his swing is deceptively sleepy looking, yet his ball striking is quite superb.
Efficiency of the strike will win you PGA trophies (or $5 dollar bets and a coke) in this game. Steve transfers the club head momentum perfectly into the back of the ball through impact.
This efficiency starts with his comfortable setup and body dominated takeaway. The butt of his club points directly at his naval and he maintains that relationship for the initial move away from the ball: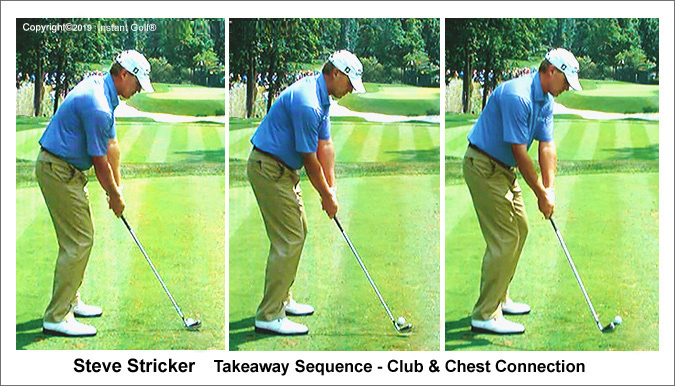 From this position, another misconception occurs. Unlike a player like Matt Kuchar, whose swing is virtually completely body driven, Stricker engages his arm swing in complement to his body turn.
If he didn't, his arms would rip behind his body and be in a horrible position from which to initiate the down swing. He would be at the point of no return, and be stuck (a term often associated with Tiger).
Instead, Steve has built a swing few understand, yet one that produces unsurpassed consistency. In fact:
Steve Stricker's "modern" position at the top is a critical
component of his powerful, Repeating Golf Swing.
And I couldn't be more on board with his fantastic approach to the back swing: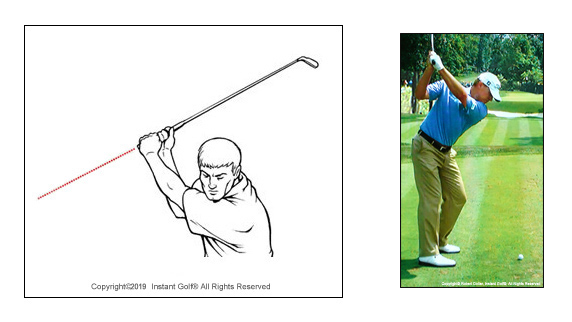 Left Image from the new 7th Edition of "The Key To A Repeating Golf Swing"
Rotate Stricker's top of the back swing position 90 degrees and the result is the position in left illustration. That's me at the top of my back swing.
From this solid position, any golfer can initiate the down swing with what I call The Key To A Repeating Golf Swing and ride the motion right to his or her finish position.
Steve and all great players, past and present, male and female, are performing The Key whether they are consciously aware of it or not.
When The Key is performed correctly, the down swing will be on auto pilot. You will be held captive by your own great swing.
Impact sounds like a gunshot (especially off the driver) and the golf ball is compressed as efficiently as possible. You will use all of your available swing speed with no power leaks, just like Steve.
Hence, the Down Swing has its own Set of Requirements.
The down swing forces created are tremendous, even for the Senior or Slower Swing Speed player. Different muscles are engaged and dynamic balance must be maintained by calling on specific parts of the body. And it all takes place in 1/3 second!
These requirements are met by every pro, yet very few recreational golfers (due to no fault of their own).
That's exactly why I created my blue print for a true Repeating Golf Swing. A swing that delivers the ball to mowed grass, not the rough or woods.
I'll show you exactly what I've shown over 10,000 golfers from 61 countries, many of whom broke 80 in their very next round after putting The Key into use.
I have also added some great bonuses to my 2020 complete package including expert, yet brand unbiased new Golf Ball Reviews.