An Instant Golf® Special Report

Golf Ball Dimples and Optimal Flight

by Robert Cotter (About the Author)
Professional Golf Ball Engineer
Director of Golf Swing Instruction, Instant Golf®
It's the final round of The Barclays tournament in NJ and familiar names are at the top of the leaderboard. 6 time winner Matt Kuchar and Gary Woodland, hot of his win at the Reno-Tahoe Open, share the lead heading into the final round.
Whether Matt or Gary take the title, or another golfer surges to victory, it's interesting to see different brands of golf balls cutting into Titleist's dominance on Tour. Sure, the Pro V1/V1x is easily the number #1 ball series on Tour but the other manufacturers continue to grab a bigger piece of the golf ball pie.
Hence, Gary plays the new Callaway HEX Chrome+ (hexagonal shaped dimples) and Matt plays the Bridgestone Tour B330-S.
Phil Mickelson and Tiger are Callaway and Nike players respectively, and Justin Rose won the 2013 US Open with the new TaylorMade "Lethal" 5 piece Tour ball.
These balls all behave differently off the club faces of each player. It can take a while for pros (and recreational golfers) to adjust to the nuances of new ball models. Golf ball trajectory (due to spin changes) and descent angle in particular can give golfers fits as they get to know the specific behavior of new design balls.
In the end, The Barclays tournament trophy (plus a likely lead in the FedEx Cup standings) will go to the golfer who controls the spin of his chosen ball on Sunday. And the dimples on the winner's Tour ball will have worked to his great advantage as reflected in a final round score in the 60's.
As a Golf Ball Engineer, I field scores of questions from golfers all over the world. I get a lot of inquires about dimples (in fact another this week).
I believe that since dimples are the only functional ball component that is visible to a golfer, they cause the most curiosity. If golf balls were clear, the questions would probably shift more to the interior components!
So what's the story with the dimples on a golf ball?
Are all those funky dimple patterns about function, or is it all "just about marketing"? Let's take a look:
Ever since 150 years ago when golfers found that the then modern gutta percha balls flew longer and straighter when their smooth surfaces were roughened up and nicked, the fascination with dimples began.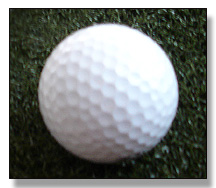 Today, we know that dimples serve to reduce the aerodynamic drag acting on the surface of the golf ball, ultimately resulting in longer distance. Combined with the backspin imparted by the golf club, today's ball flight characteristics are nothing short of spectacular!
Over the years, the patterns have changed and evolved into some very dynamic looking designs; multi sized dimples on the same ball, dimples in dimples, hex shaped dimples, and deep and shallow dimples to name a few.
These changes have been aided by all the improvements in the ball flight/trajectory and distance measuring technology.
One of the biggest advances was multi sized dimples on the same ball. Hence, smaller dimples could be "crammed in" between the larger dimples.
Maximum dimple coverage is desired on golf balls because it increases flight stability and gives the engineers a greater ability to refine finished ball flight characteristics.
But there is a trade off with maximum coverage as the "Fret" area, the ball surface between the dimples, becomes very thin. If it is too thin, the frets will shear at impact and the ball will scuff. Take a look at the Fret area below:
When you bounce a ball of a cart path and the ball incurs damage, this fret area is the area that gets sheared.
This used to be a big problem with some off the softer "balata" covered golf balls which were phased out about 15 years ago. One good bounce off a cart path and a balata ball could be permanently out of commission!
Fortunately, fantastic cover material technology of the modern balls has reduced this type of damage.
So why all the different dimple patterns and is it just marketing?
Sure, there's marketing, but the marketing comes after the performance.
In many respects, dimple technology mirrors the design and selection of the tires for a race car.
Race car designers build the chassis and suspension, add a custom engine, and top it off with an aerodynamic body.
Then they select the appropriate tires that will grab the road and maximize the performance of the all the other high tech parts of the car. Different tire designs will produce different results: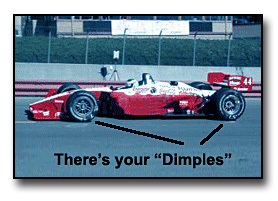 With a golf ball, the core is the engine. The mantle layers (if present) add performance. Together with the cover, you have a golf ball "without the tires" until you add the dimples.
With dimples, golf ball designers can tweak the final performance of the golf ball. They will find the right dimple pattern that results in the optimal trajectory and distance, for a specific ball construction.
For instance, let's say a new ball design is almost finished and the product has great initial velocity, nice spin characteristics, and a soft cover for great touch around the greens.
However, the ball "attacks" the ground too steeply at the end of a driver flight, so there is little roll and shorter overall distance.
No problem, the aerodynamics engineer can refine the pattern, depth, and/or sizes of the dimples to flatten out that ground angle of attack so that golf ball can bound down the fairway a bit more for optimal driver distance.
In the end, you have that high performance golf ball sitting on the tee just waiting for the green flag to start the race.
And just like in a race car, the driver gets things going!
---
If Golf Balls are still a mystery and Ball Selection is Confusing, then here's some help: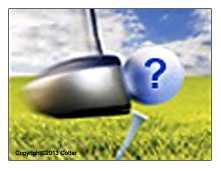 As a U.S. patent award winning Golf Ball Engineer, I enjoy helping golfers select the ball that fits their game details, so they can lower their scores (often dramatically) just by using the right ball for them.
To assist you in making the right golf ball choice to maximize your game, every customer of The Key To A Repeating Golf Swing instructional package also receives Bonus #1 which includes new Golf Ball Reviews and Recommendations for a variety of golfer types and abilities, from total beginners to the highly skilled.
You will find this unique bonus eye opening, I Guarantee It.
And when the Right Golf Ball for You is combined with my breakthrough The Key To A Repeating Golf Swing technique, maximum golf ball compression occurs at impact
This translates into more distance and accuracy, lower scores, and more enjoyment. I invite you to join 10,000+ golfers who have put The Key to work in their games.
My Six (6) part instructional package comes in a Digital Version (Instant Download) or Hardcopy Version (worldwide shipping).
Here's what you'll receive for less than the price of a dozen, premium golf balls: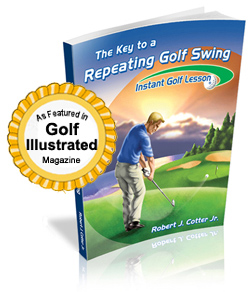 The Brand New, Professionally Illustrated edition of "The Key To A Repeating Golf Swing" Manual (standard PDF format for PC and MAC computers, tablets, smart phones, etc.. - Immediate, Simple Download) or Hardcopy Version!
$74
Masters Tournament Special

Take OVER 50% Off, Very Limited Time
(Sale in Progress Now)
$74 only $37.00

Order Now and you'll get the following
5 FREE Bonus Gifts Worth AT LEAST $279.80.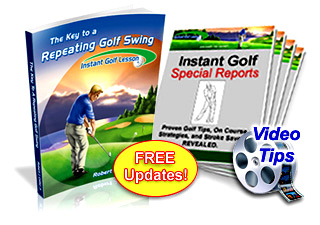 Every time "The Key To A Repeating Golf Swing" manual is updated with new chapters, images, or video, I receive an avalanche of emails from current customers requesting a free update to the Newest Edition. To date, they have had to pay for the new edition (currently the 7th edition).
For a brief time, I am offering new customers FREE Lifetime Updates to future new editions. When you purchase either the digital or hardcopy version of the package, you will be entitled to lifetime free updates to "The Key" manual (a full copy in ebook form).

As a US Patent award winning golf ball engineer, I constantly receive requests from all over the world for golf ball recommendations and have been matching the correct ball to individual golfers for years. Still active in the industry, I have the "inside" scoop on what new ball designs are ideal for high and low handicap, senior, and women golfers.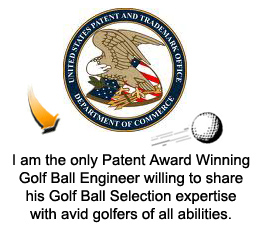 There are incredible New Golf Balls being
introduced during 2020 and Beyond.
In fact, in my experience, about 85% of golfers I work with are using the wrong ball for their game for maximum distance and scoring. They are also not using the correct driver loft for their swing speed.
These are the types of issues I address with my "Special Reports". Here is a partial list of equipment, industry, and coaching updates you can receive. You will find them invaluable, I guarantee it:
Lifetime Golf Ball and Equipment Recommendations for various golfer types (hcps).
Video Tips and Customer Video Swing Analysis
On site reports from PGA Tournaments.
What the top players are working on with their coaches.
Simple fitness for more distance and accuracy.
Training Aids
and much more...
Note: I take this commitment very seriously and deliver these updates regularly throughout the season.

Exclusive - "Putting Rebel - Conversation with a Putting Wizard"
My breakthrough work based on my in depth conversation with the best putter I have seen in all my years of playing golf.
Discover the exact techniques this putting expert uses that enables him to average less than 30 putts per round.
"Putting Rebel" Jay revealed to me how he sees the big picture on the greens, beyond the break and speed.
It doesn't matter whether the putts are left to right, right to left, or bombs from across the green. He buries the ball in the hole like it is being pulled on a string.
It is truly fascinating instruction that will help your putting game instantly.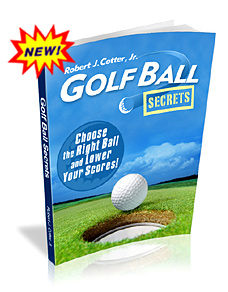 Exclusive - "Golf Ball Secrets"
* Learn what you really need to know about golf ball construction from a golf ball design engineer.
The real story on Dimples, Spin Rate, and Performance!
Tips to choose the right ball for your game to lower your scores.
An actual "on course" scenario showing the effects of using the right and wrong ball for your swing.
How to evaluate a golf ball on the course and much more…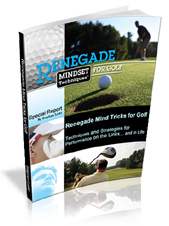 Coach Stephen Ladd's - "Renegade Mindset Techniques for Golf"
Learn why the final stage of success in golf is in large part mental:
Coach Stephen will show you how Anchoring turns on your peak performance.
His ingenuous Swish Pattern builds complete confidence in your ability.
The Brain Scramble will enable you to immediately forget blow up holes and bad shots.
Coach Stephen Ladd is re-owned as a cutting edge mental game specialist. His unique teaching style and techniques have been used successfully by golfers in 72 countries. This revolutionary ebook is a simple download.
I guarantee your haven't seen or read anything like this before!

Mike Pedersen's - "Fit To A Tee"
Mike Pedersen's golf fitness Ebook, "Fit To A Tee" (simple download).
Learn how simple stretches can revolutionize your game. Simple golf fitness for everyone.
Mike is the featured golf fitness expert for Golf Magazine's website GolfOnline.com and PGA.com. He has worked exclusively with golfers for over 10 years.
And I back it all up with a my no nonsense guarantee:
Your No-Risk 45 Day 100% Money-Back Guarantee
I personally guarantee that if you make a sincere effort to apply the principles in "The Key To A Repeating Golf Swing" within the next 45 days, you'll realize lower scores and more enjoyment from your game.
But if you aren't 100% satisfied, email me your refund request and electronic payment receipt within 45 days of purchase and you'll be issued a prompt, no-hassle refund. Hardcopy product must be returned in original, new condition for full product price refund minus original shipping.
So you've got nothing to lose except strokes off your game.
Get Instant Access Right Now to the entire 6 part Digital Package (simple download)
or
have the Hardcopy Package delivered right to your door step.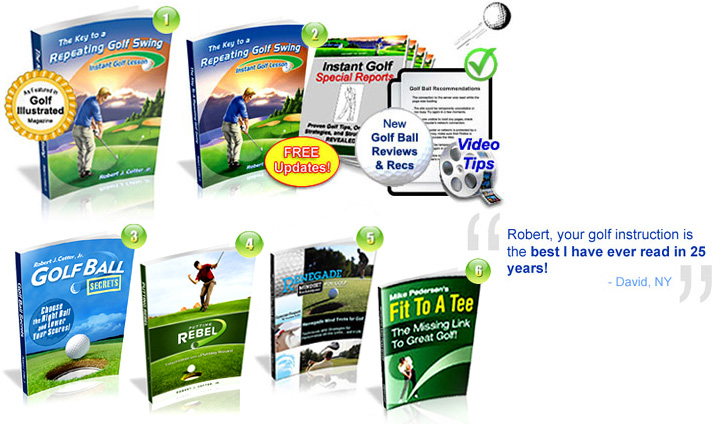 Choose Instant Download or Hardcopy (shipped worldwide, same price!):
Digital Version

Yes Robert! I'd like Instant Access to the complete digital package (immediate simple download).

Hardcopy Version

Yes Robert! I'd like the new 130 page Hardcopy Manual delivered to my door step along with the additional, simple download bonuses.


$74 only $37
Important: This New Edition Package Price is a Limited Time Masters Tournament Special!
Take advantage of this incredible offer and receive your complete 6 part package including FREE lifetime "The Key To A Repeating Golf Swing" manual updates.
You'll also receive unbiased Golf Ball Recommendations from a US Patent Award Winning Golf Ball Engineer (Bonus #1) with this special customer offer.
"Brilliant, stunning, unbelievable is all I can say."
"Dear Sir,
As you will by my e.mail address above I purchased your Key system and I am amazed by its immediate change it has had to my swing and went from 107 for an average round to 90. Brilliant, stunning, unbelievable is all I can say.
Thank you so much for your prompt reply and superb service you have given me, I have just read the 'Key' again, just to refresh and keep the practice going to improve even further.
..its great to be able to grin on the first tee knowing that I know what MY FRIENDS WOULD LOVE TO KNOW."
Martin S. - UK
"shot a 41! My best of the year"
"Talk about a testimonial... Your Readers would not believe this. Read your book Monday evening. Went to back yard to work on your tips. On Tuesday A.M. worked in my net on theory. Tuesday evening at league shot a 41! My best of the year (4 strokes off my average). All this within 24 hours.
Your a Genius!

Thanks so much."

Carl W. - Kentucky, USA
Author's Note: (this gentleman is 72 years young)
"the best golf book I have ever read"
"Hi Robert,
Thank you so much for your comprehensive response to my golf ball recommendation request. I am very impressed...
I read your wonderful e-book "The Key to a Repeating Golf Swing" this weekend, and found it to be the best golf book I have ever read (out of probably 40 or 50 of them).
Great job! And I'll be recommending you to friends – although not the ones that I am currently playing for money!!"
Garth J. - Saudi Arabia


Instant Golf® is a Paypal Verified Organization.
About the Author Questions? Contact: info@InstantGolfLesson.com
Copyright © 2020 Robert Cotter Instant Golf® All Rights Reserved Instant Golf Lesson
Other names, trademarks, and images are copyrights of their respective owners.