An Instant Golf® Special Report
Golf Driver Loft and Max Distance

by Robert Cotter (About the Author)
Professional Golf Ball Engineer
Director of Swing Instruction, Instant Golf®
There is a revolution on the PGA Tour regarding Correct Driver Loft and Golf Ball Selection for max distance and accuracy. All the rules have changed, yet the golfing public has been left in the dark. The evidence is on display again this week at The Players Championship.
Phil Mickelson entered this week's prestigious event with a win already in 2013 (Phoenix Open) and 2 third place finishes including last weekend. This year he has been driving the ball longer and straighter than ever before.
His long, towering blasts off the tee have been incredible. The 42 year old even hit a confirmed 450 yard drive at the WGC - Cadillac Championship in Miami. It's also pretty amazing considering he battles psoriatic arthritis.
Phil has credited a driver spec change for his win and prolific driving improvement. The adjustment was quite novel for him given his prior equipment set-ups. It's paying huge dividends so far.
Webb Simpson claimed his first major title last Summer after shooting a brilliant 68 in the final round of the U.S. Open. In 2012, he won 2 events in 3 consecutive starts, the second of which came after an exciting playoff at the Deutsche Bank Championship.
Webb already has 4 top 10 finishes in 2013 and has moved into contention this week at The Players Championship. He is arguably the most reliable and steady performer on the PGA Tour.
Dustin Johnson (below) won the 2013 Hyundai Tournament of Champions and the 2012 FedEx St. Jude Classic. He now has seven wins at only 28 years of age. He has already come close in a few majors and definitely has a major championship title in his future.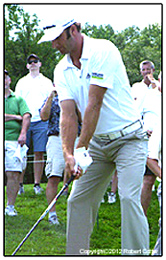 Dustin is a long hitter and is always in the Top 10 in Driving Distance on Tour (averaging 303 yards in the 2013 season).
In addition, Nick Watney has 5 Tour wins in his young career, including an important World Golf Championship title against the best players in the world. He won twice in 2012 and his modern, but simple golf swing is one of the best. He is also one of the longest hitters on Tour throughout the bag, from driver to wedges.
But this is really shocking..
Webb, Dustin, Nick, (and a growing number of others) have been achieving their huge driving distances using 10.5 degree lofted drivers! And Phil has increased his loft by almost 2 degrees with his recent change.
What's more, 2012 Heritage winner Carl Petterrsen uses an 11.5 loft driver (and is ranked high in driving distance)!
Lee Westwood is one of the best drivers in the game and uses 10.5-11.5 degrees of loft. He has moved into contention at The Players as the final round gets underway.
Here's a Partial List of 10.5-11.5 Driver Loft Players and their weapons:
Player

Driver

Recent Wins

Webb Simpson

Titleist 913D3 10.5
Titleist 909D3 10.5


2012 U.S. Open Championship
2011 Wyndham Championship
2011 Deutsche Bank Championship

Lee Westwood

Ping G25 10.5 and 11.5!

2012 Nordea Masters

Nick Watney

Nike VR_S Covert 11.5!
Titleist 913D3 10.5


2012 The Barclays
2011 World Golf Championship (Doral)
2011 AT&T National

Dustin Johnson

TaylorMade R9, R11S 10.5
TaylorMade R1, 10.0


2013 Hyundai TOC
2012 FedEx St. Jude Classic
2011 The Barclays


Carl Pettersson

Nike VR Tour 11.5!
Nike VR Pro 11.5

2012 RBC Heritage (Hilton head, SC)
2010 RBC Canadian Open


Ted Potter, Jr.

Cleveland Classic 10.5

2012 The Greenbrier Classic

Keegan Bradley

Cleveland Launcher TL 10.5

2011 HP Byron Nelson Championship
2011 PGA Championship


Greg Chalmers

Titleist 910D3 10.5

2011 Australian Open
2011 Aust. PGA Championship


Rory Sabbatini

Nike VR Tour 10.5

2011 Honda Classic

Paul Casey

Nike VR Tour 10.5

2011 Volvo Golf Championships


Aaron Baddeley

Adams Speedline Fast 10.5

2011 Norhern Trust Open (Riviera)

Hunter Mahan

Ping Rapture V2 10.5

2010 WM Phoenix Open
2010 WGC-Bridgestone Invitational

Matt Kuchar

Bridgestone J38 10.5

2010 The Barclays

Ben Crane

Titleist 909D2 10.5

2010 Farmer's Insurance Open

Geoff Ogilvy

Cobra S9-1 Pro D 10.5

2010 SBS Championship

Camilo Villegas

Cobra S9-1 Pros 10.5

2010 Honda Classic

Phil Mickelson

2013 Callaway RAZR Fit 9.5+
2011 RAZR Hawk 8.2!
2011 RAZR Hawk 6.3!


2013 Phoenix Open

Tiger Woods

2009 Nike SQ Dymo 10.5
2011 Nike SQ Dymo 8.5!
2012-2013 Nike VR Tour 8.5!

2009 - 6 PGA Tour wins!
2010-2013 - 5 wins in 3 years
(no majors) using 8.5 loft.
As for Mr. Woods, before the 2009 Memorial Tournament he switched from an 8.5 degree driver to a 10.5, hit 49 of 54 fairways and lapped the field. Yet he still averaged well over 300 yards for that week.
In fact, he averaged a hefty 306.4 yards when he crushed the field by 8 strokes later in the year at the BMW (with his "old" swing).
I would argue that this simple driver loft change kick started his consistency as he won 6 tournaments, the FedEx Cup, and Player of the Year in 2009, and no one was even close to his 68.06 scoring average.
So Tiger took his 10.5 degree Nike driver with his 118 mph swing speed, lost no distance, and improved fairways hit dramatically (hence 6 wins). And all this with his "inefficient", pre Sean Foley swing.
Note that when he came out on Tour he used a 6.5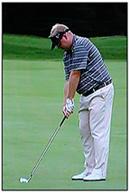 degree lofted driver!
He switched to an 8.5 in 2011 with his new swing and struggled off the tee. In fact:
Tiger was ranked 186/190 in driving accuracy, hitting only 48.9% of the fairways!
His accuracy improved somewhat in 2012-2013 given that the new swing is finally burned in, but he has been sporadic (by his high standards) despite his multiple wins on old familiar venues like Bay Hill. So far in 2013, he is ranked 154/190 in driving accuracy with his 8.5 degree driver.
He is challenged by courses with more penal fairways, i.e. - he missed the cut at the 2012 Wells Fargo, visiting the woods several times on Thursday and Friday.
At the 2012 U.S. Open he tied for 21st, and hit only 5 of 14 fairways (36%) on Sunday (the 4th worst % of any player in the field). These results have come while playing his driver with 8.5 degrees of loft. You see, less lofted drivers encourage more side spin (hook, slice) on the ball. At his high swing speed, this can be disastrous.
Incredibly, Carl Pettersson (shown w/iron) used an 11.5 degree driver to win the 2010 Canadian Open and the 2012 Heritage Classic and still averages 295+ yards off the tee (he was ranked 32 out of 185 players in Tour driving distance)!
So You May Be Thinking to Yourself...
"What's going on here, I use a 10.5 (or 9, 9.5, 10) degree driver and my swing speed is no where near Dustin's or the other guys on that list. The sales person at the store said that was the best loft for me!"
You should be concerned. Again, Nick, Webb, Dustin, Phil, and Carl lash their big sticks at over 120 mph. What's more, the average PGA Tour driver swing speed is a hefty 112 mph.
But the average golfer swings their driver only about 88-90 mph.
So what's the deal? A heck of a lot of misinformation, that's what.
The fact is that the study of optimal flight patterns for maximum distance has made leaps and bounds in just the past few years.
Doppler radar devices like the Trackman have quantified and pinpointed optimal flight and how to achieve it.
When combined with a drop in golf ball compressions over the years and incredible driver design advances, the flight patterns for optimal distance have been so refined, they can be literally be mapped on a screen and traced with a pen. Incredible.
And the resultant equation for distance in its simplest form is:
Low Initial Ball Spin + High(er) Launch Angle = Maximum Distance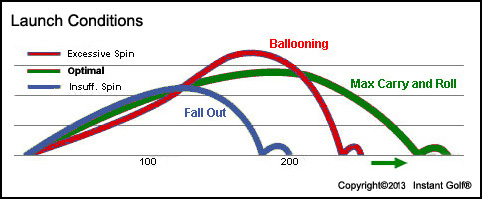 So by studying the diagram above you can see why the "higher" lofted drivers are finding their way into the bags of the best golfers in the world. And these guy and gals are winning... a lot.
Again, believe it or not, when Tiger came out on Tour, he used a 6.5 degree driver! The norm 10-15 years ago was 7.5-9.0 degrees. Then it crept up to the 8.5-10 range.
And it was at that time that a lot of recreational golfers made their big, driver purchases. Yes, just a few years ago they were getting settled into their 9-10 degree, $300 titaniums.
Now they feel have lost distance, particularly relative to their peers who are gearing up with more recent equipment, newer balls, and fittings. You may be one of these folks.
How do I know this? I have evaluated 100's of golfers (their games, equipment, distances, flight patterns, etc...) and the story repeats itself over and over.
So Let Me Share Some Points...

Most average swing speed golfers (~90 mph) don't use enough loft in their drivers due to seeing the pros using 9-10 degrees effective loft.
I typically recommend 10.5-12.0 deg loft for the avg. club head speed for maximum distance, particularly carry. This even applies for golfers up to 100 mph.

Unless you are playing consistently in extremely (and I mean extremely) windy conditions where control and roll are paramount, I encourage players to maximize the carry part of the distance equation.
On average, the ball spends most of the time in the air and roll typically contributes only ~10% to the total distance under standard conditions. You can see that in the chart above.
Masters Champ Bubba Watson, typically one of the longest driver on the PGA Tour, has a very high ball flight as he has maximized the carry portion of the Carry and Roll. But it is a high ball flight with low spin.
Low spin ball flight, improved dimple patterns, etc... have also created an angle of approach (ground impact) change that still provides great roll with "higher" lofted drivers. We call this the ground attack angle.
Also, more loft can dramatically reduce your unintended side spin like that over fade/slice, or the effects of that nasty duck hook.
As an aside, I once worked for a golf equipment company that discontinued an 8.5 degree version of a titanium driver because even Pros couldn't keep it on the fairway. It was a slicer's nightmare!

Driver loft and effective launch angle can vary per golfer, even given the same club loft.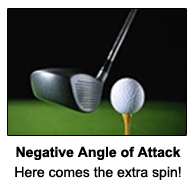 The ball launch angle is quite different than the driver loft for two golfers, even if they are swinging the same club. This is because some golfers will have a negative attack on the ball (hitting down more like an iron, imparting extra spin – the high dying quail effect in Red on the diagram), while others will upsweep the ball off the tee.
There is a perfect angle of attack for each golfer for max distance that can be determined on the range with practice. Or you can perfect your flight and distance with a launch monitor (like the Trackman) and a qualified pro or technician.
Simple ball position and tee height adjustments can mean another 10-20 yards as long as you are compressing the ball efficiently for your swing speed. Impacting the upper, outer quadrant of the face also reduces more spin and encourages a draw.
Typically a flat angle of attack or a bit of an upsweep is preferred for almost all golfers. Again, that high launch with low spin condition!
Typically, given a ~90 mph swing speed, 13.5-14 degrees ball launch (not necessarily driver loft) at about 2900/3000 rpm is close to optimal. But as stated, it depends on the golfer (and the golf ball).
So I would encourage most golfers to experiment (don't run out and buy) with more loft for more total distance and/or for reference if you have the opportunity (particularly on the course).
This is the time for early season Demo Days and Sales... take full advantage!
I'll also add that club fittings in a booth where a golfer is firing off 20 balls is not always representative of a 20 minute interval between each drive on course. Historically a golfer can be fit with a driver with too little loft as they are in a groove, loosened up, and thinking about best case scenarios.
One company's 10.5 is also not always another's. You may also have physical challenges that will become variable affecting on course play, balance, swing speeds, etc..

And you wind players, a higher lofted driver in the bag, even a cheap, 2nd hand one (Ebay, $50), is also great for those downwind holes. Tee it high, let it fly, and go after a few of those 300 yard blasts.
So remember to work towards low initial ball spin combined with a high(er) launch angle for maximum tee shot distance.
By doing so you are one big step closer to playing like today's PGA and LPGA stars.
In fact, here's my simple 3 step summary of what the best golfers do to achieve max distance and accuracy with all their clubs, which ultimately leads to very low scores:
| | |
| --- | --- |
| | Fully compress the ball on the center of the club face with a Repeating Golf Swing that minimizes slice and hook spin. |
| | Have the ball leave the clubface at the correct launch angle and spin rate for the golfer's swing speed. |
| | Use the correct golf ball for a given golfer's swing speed. |
This report addreses the "how and why" of point #2.
Combining Points 1, 2, & 3 will give your Power, Accuracy, and Consistency.
With your permission, I would like the opportunity to help you further by showing you my swing technique. You will benefit from my firsthand experience inside the ropes, working with some of the top players in the game. I am convinced you will benefit tremendously from my swing instruction (and golf ball expertise).
I'll show you exactly what I've shown over 5000 golfers from 61 countries the last 19+ years (over 10 years online).
I have also added some great bonuses to my 2013 complete package including expert, yet brand unbiased new Golf Ball Reviews.