As I write this, the new 2019 PGA Tour season is underway after a year of great majors and impressive play by a crop of young (and not so young) stars including Brooks Koepka, Bryson Dechambeau, Justin Rose (the latter 2 winners this weekend), and others. It will be interesting to see if these players continue to produce top results in 2019 or whether other phenoms like Cameron Champ or Tony Finau take the spotlight.
It's a great time for a Golf Ball Review, and this time I am taking a look at the long awaited Titleist AVX Golf Ball that was first introduced in small test markets (Arizona, Florida, & California) and then officially released for shipment in 2018.
Now if you are a fan of Titleist product you may have noticed that the NXT Tour, a 3 piece (core, mantle layer and cover) soft plastic covered golf ball was discontinued in 2018. It was a great ball and a staple in the Titleist lineup for over a decade! Moving forward, the NXT line will be well represented by the NXT Tour S (or soft) which has now become officially known as the Titleist Tour Soft. It has a 2 piece construction (large core, cover) and is preferred by golfers who like a lower compression, less expensive golf ball.
Some conventional wisdom states that the Titleist AVX Golf Ball was introduced as a replacement for the 3 Piece NXT Tour. However, this new golf ball has a construction unto itself and more closely resembles the Pro V1 than the NXT series. Yet there are real differences as we will see below and it may well be the perfect ball for your game.
Titleist AVX Golf Ball Construction
Let's dive into the construction of the AVX as it is a well thought out product by the R&D team at Titleist. The AVX golf ball is a 3 piece golf ball consisting of a high speed but low compression core, a mantle or "casing" layer around the core, and a soft but durable cast thermoset urethane cover.
So at first glance you may be saying "isn't this really just a Pro V1?!" And yes, the Pro V1 is also a 3 piece golf ball with a urethane cover, but the AVX has a distinct difference in the area of compression. It is considerably softer than the Pro V1 (or Pro V1x for that matter).
In essence, the engineers at Titleist have delivered a golf ball with a Tour ball construction that is softer than many brands of Tour balls, but still maintains much of the playability of higher compression Tour balls. Quite a feat if I may say so.
Titleist AVX Golf Ball Compression
Typically when an overall golf ball compression is reduced, you can say goodbye to distance. But over the past 10 years or so golf ball constructions and materials have become very sophisticated, delivering properties that "restore" some of the desired attributes like carry and overall distance. Case in point, the mantle or casing layer between the core and cover adds another variable that allows engineers to reduce or add spin and/or increase ball speed (which translates to more distance) in the finished product.
Also note that compression values have become less relevant over the years as the USGA does not regulate ball compression and there are various scales of measurement. Hence, the days of absolute 75, 90, or 102 compression ratings are long gone. However, to give you an idea of real world values, the compressions of the Pro V1 and Pro V1x are on the order of 90 and 100 respectively. The AVX is closer to 80 compression. And you will notice that difference when you tee up the AVX.
Impressions and Testing
The Titleist AVX golf ball is now available in both white and High Optic Yellow which will please many golfers. Of note, this is the company's first yellow urethane covered ball. Yellow golf balls are still holding their own in popularity and even PGA and LPGA players tee them up from time to time. Of course for some it's in their contract!
Open a sleeve, and you will be struck by the AVX golf ball dimples that more resemble Bridgestone product than other Titleist balls. Like the ProV1, the AVX features a spherically-tiled 352 tetrahedral dimple design, but you can see a difference on the edges of the AVX dimples which feature cross-sectional profiles formed by a catenary curve. They are have a much sharper profile. This is a patented technology by Titleist that ads another tool to the tool box for refining and optimizing golf ball flight performance. Here's a side-by-side look at the AVX vs. the Pro V1: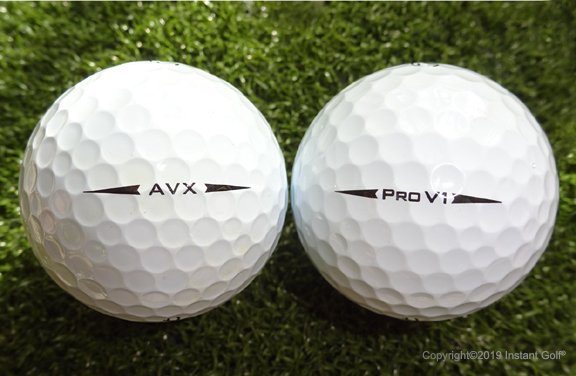 Titleist AVX Golf Ball Low Spin
As mentioned, the AVX is a lower spinning golf ball. Many golfers can expect 200-500 less RPM off the driver. This was actually a positive for my current driver set up as I tend to be a higher spin player. If you play in windy conditions like my friends in Texas, Australia, and parts of the UK, this can also be a benefit to you. Lower tee shots in windy conditions and hard fairways are a great combination for this ball. And if you suffer from a lot of sidespin like a slice or hook you can expect to hit more fairways than with other Tour balls with more spin. That reduced sidespin translates directly into more ball speed, which is the biggest factor affecting carry and total distance.
It bears mentioning though that you need to have enough driver loft and launch angle to maximize distance with the Titleist AVX golf ball. If you are still using an 8.5-9 degree driver and have a slow or moderate swing speed, you will not achieve the desired launch angle to take advantage of the engineering in this ball. One test is to see if you hit a 3 wood (~15 degrees) similar total distance to your driver. If so, your ideal driver loft for the AVX may be closer to 12 degrees. Consult your local pro or jump on a monitor to confirm.
Distance off the tee was comparable to the Pro V1 and Chrome Soft. Where you will really notice the difference is on the irons, particularly the 6-8 irons. Again, as a high spin player, this worked to my advantage. There was a ~1/2 club distance advantage with the Titleist AVX and a noticeably lower ball flight. Due to this, the ascent angle or the angle that the ball hit the green was lower so this posed the threat of balls bounding off the green or taking extra hops or rollout to stop. But it was not an issue. Remember, the AVX has plenty of spin and a cast urethane cover. If we were talking about an ionomer (plastic) covered ball with low spin and low flight we would have a different story. Good things happen when you can flight a ball into a green with a flat trajectory and have it hop once or twice and stop.
Titleist AVX Golf Ball Short Game Review
Let's quickly talk about Golf Ball Compression vs. Golf Ball Hardness. Compression can be defined as the relative resistance of the ball to being deformed. This is primarily related to the firmness of the ball's core and COR (coefficient of restitution). The mantle or casing layer around the core contributes to this too. This value is determined by a compression testing machine.
On the other hand, the hardness is actually a property of the cover of the golf ball. There are specific standards for hardness and different measurement scales. Golf balls are measured using a hardness gauge and report measurements using the "Shore D" scale. Basically, these gauges use a small metal point to puncture just the cover of the golf ball (through the paint) and the resistance to that puncture is recorded.
So when you chip and putt the Titleist AVX golf ball (or any other model), the feedback you get through your hands (and ears) is primarily hardness. This is why a 100 compression Pro V1x with a urethane cover will feel softer around and on the green than a 50 compression, plastic covered 2 piece ball. You are feeling the properties of the cover vs. the core and mantle layer.
Chipping & Putting the Titleist AVX
The bottom line is that the AXV performs similarly to the Pro V1 and Pro V1x around the green. All three balls have similar cast urethane covers that produce a soft feel off the wedges. Since the dimples don't affect chipping feel off the club face, you are left with the visual difference between the AVX and Pro V1. This of course is subjective depending on your requirements and certainly something most golfers can adapt too. You may even begin to prefer the look of the AVX dimples, or the high optic yellow ball option.
I rate putting feel on 3 sound levels, as sound relates directly to feel;
- a "snap" (harder balls, poor feel)
- a "knock" (decent feel and speed control)
- a "soft click" (great feel, ala urethane covers)
This ball rates between the knock/soft click and as stated, is comparable to the Pro V1. Distance control was also excellent. Putting feel is perhaps the most subjective aspect of the ball characteristics. If you like the feel and sound of urethane covered Tour balls like the Pro V1 or V1x, you will be right at home with the AVX.
Titleist AVX Golf Ball Price
OK, now the hard part. What's all this new technology (and advertising) going to cost you? Well, the Pro V1's little brother comes at the big brother price, and even more so at this writing. There is a new Pro V1 on the horizon which will be launched at the PGA show next month. Because of that, the current model Pro V1 and Pro V1x are being discounted at $39.99/dozen. The AVX is $47.99/dozen which will essentially match the cost of the new Pro V1's later this year. As stated, both balls have the same 3-Piece composition so the price follows suit. I wouldn't be surprised to see the AVX price soften as time goes on though as the new Pro V1 models take center stage given their Tour presence.