Have Golf Swing Tips and Lessons failed to deliver lasting results?
Let me show you how to unleash your own personal perfect Golf Swing, add 30 yards of accurate distance to your drives, and knock 7-10 strokes off your game…
by Robert Cotter
Professional Golf Ball Engineer
Director of Swing Instruction, Instant Golf®
Dear Fellow Golfer, I'd like to share with you what I personally learned from top professional players.
You see, I spent many years working for the most prestigious golf equipment company in the world designing golf balls for professional and recreational golfers like yourself. This afforded me the opportunity to observe many of the best golfers in the world up close, striking golf ball after golf ball, with laser-like precision and power.

After watching and analyzing the swings of scores of pro golfers, I was struck at first by the marked differences in their golf swings. The variation of grips and swing planes left the mind wondering as to how they could all arrive at impact with consistency and send the ball on its way… seemingly perfect every time! Given the variation of physical types (tall, short, lean, rotund) made this even more amazing. I often thought to myself…
"How can they do this? What is their secret?"
It's when I started to focus on their similarities that I began to understand the true essentials of a repeating, perfect golf swing. When I stripped away the differences in body type, grip style, and club path I saw the golf swing in a new light.
And then, POW, it hit me! I discovered the secret, the common denominator, or what I call "The Key To A Repeating Golf Swing" .
I started practicing using this Key and immediately saw a dramatic improvement in my ball striking. The ball was now going where the club face had pointed at address…toward the target! My ball striking was crisper and my scores dropped dramatically. It was as if my golf swing was now on auto pilot!
I crashed through the 80 barrier and now enjoy a single digit handicap.
I shared my secret with a few golfers and they were equally astounded with their immediate improvement. In fact, the speed of the improvement was so stunning that I termed my new discovery the Instant Golf Swing (and Instant Golf® was born)!

I realized I had to put this info together so I wouldn't lose sight of my discovery. I worked diligently over many months putting this breakthrough swing method into a comprehensive, yet easy to understand format that could be obtained from the internet.
To accurately convey this secret, I even hired a world renowned illustrator to bring The Key to life with detailed illustrations and easy to understand reference material.
Then, in order to help as many golfers as possible, I decided to create an online golf instruction Ebook (also available in Hard Copy) that could be delivered in minutes, so improvement could begin right away. The result is my guaranteed golf swing learning system:
"The Key To A Repeating Golf Swing"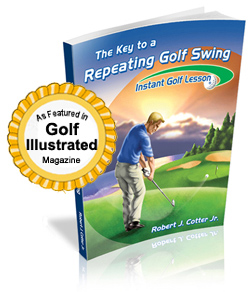 Here's what students are saying:
"I was out driving them by 20-30 yds with a $20 club"

"Within a few days time I was showing "experienced" players what a straight and accurate shot looked like.

My whole club set with bag cost $200 brand new. Some of my friends have drivers that cost twice that! Imagine their reactions when I was out driving them by 20-30 yards with a $20 club. Those same friends gave me a lot of flak for even buying an "online lesson." Guess who's on the receiving end of that flak now! Thanks so much for making your book affordable. And thanks a LOT for improving my game so early on. I'll be sure to give you recognition when I slip on the green jacket!" Nick M. – Longmont, Colorado
"Talk about a testimonial… Your Readers would not believe this. Read your book Monday evening. Went to back yard to work on your tips. On Tuesday A.M. worked in my net on theory. Tuesday evening at league shot a 41! My best of the year (4 strokes off my average). All this within 24 hours.

Your a Genius! Thanks so much." Carl W. – Kentucky, USA Author's Note: (this gentleman is 72 years old)
Over the past 11+ years, I've taught over 10,000 golfers from 61 countries the simple Key that puts their golf swing on auto pilot and delivers the club head right back through the ball, for precision shots and lower scores.
I recently introduced the brand new 7th edition of my manual, "The Key To A Repeating Golf Swing", to the golf world, and the response has been incredible. I invested many hours and dollars getting everything up to my standards and I couldn't be more pleased with the final results.
This golf season I am determined to get this information into the hands of as many golfers worldwide as possible so that they can experience the exhilaration of a true repeating golf swing. Believe me, I know how frustrating this game can be.
Let me show you what I learned from years of experimentation and studying the top pros in the game while in the golf industry. My unique approach to the swing incorporates the common denominator that governs the swings of every great player. It ties together the individual steps of the swing into a seamless, repeating motion. It is truly incredible.
Important: This year I have also done something for my customers that is truly an online golf instruction first.
It's frustrating to meet so many golfers who are using the wrong golf ball type by no fault of their own. In many cases, they are getting the wrong information. What's worse, they often end up playing "whatever they find in their bag" (or the woods). That's why for 2015 I have added PERSONALIZED GOLF BALL RECOMMENDATIONS to "The Key to A Repeating Golf Swing" golf improvement package.
As a US patent award winning golf ball engineer, I worked knee deep in golf ball technology for years, developing new ball designs, and then matching the finished product to the correct recreational and professional golfers based on their personal needs and equipment parameters.
I even witnessed a major championship winner add 20 yards to his drives after matching the correct ball to his equipment and launch conditions. Imagine what the correct ball could do for your game.
Do you know which of these ball types will perform better with your equipment and swing speed?

Here is some recent feedback from several of my Golf Ball Consultations (the product names are removed as they may not apply to your game and equipment specifications):
"Robert, I can't thank you enough for your help!

I just got a dozen RB's, they are AMAZING! I have been hitting the ball 265-270 yds. every drive! They are also more durable than the PB's I was playing with. I just shot a 83, my best round ever. Again, Thanks a lot!" Joe G – Florida, USA RB = Recommended Ball PR = Prior Ball
Hi Robert. I am astounded by the detail of the reply. I simply did not expect the detail you have provided and because of that I am going to tell a lot of people in my Golf club. I will seriously take your advice.

I thought I would let you know I had a 43. Remember, I am a 21 hcp. I had 4 pars. So thank you. "This is the best value golf advice I have ever had". Congratulations on a Quality Product. Regards, Steve P – Australia
Do I sound passionate about using the right golf ball? You bet I am, and I encourage you to see what this information can do to transform your game.
Let Me Show You the Correct Golf Ball for Your Swing and Equipment.

Then take your game to the next level with the breakthrough swing method I developed with you in mind. For a limited time, I have also decided to include the following free bonus gifts in the new edition of "The Key To A Repeating Golf Swing" package by Instant Golf®: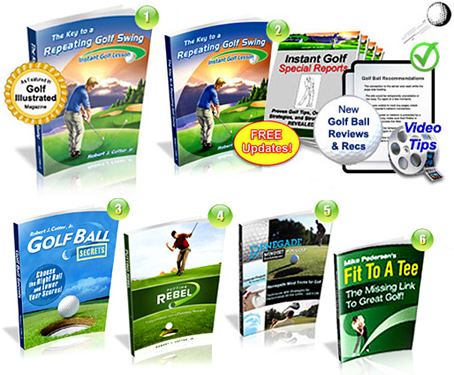 Instant Access – Start Learning in Minutes
$74 PGA Tour Event Special

Save 50%, Very Limited Time
(Sale in Progress Now)
only $37.00
Get it all for less than the cost of a dozen premium golf balls!